How to Create a Purchase Requisition Workflow in 15 Mins?
KiSSFLOW
October 25th, 2018 • Procurement Process • Purchase Requisition
Purchase requests are where the purchase order workflow begins. It is the first step in an organization's procurement process before any project kicks off. But old school ways of carrying out purchase requisition on paper or over emails can run things off the rail as they usually cause projects to be dragged and delayed, and demotivate the involved team members. Not to mention that emails also lack tracking and visibility.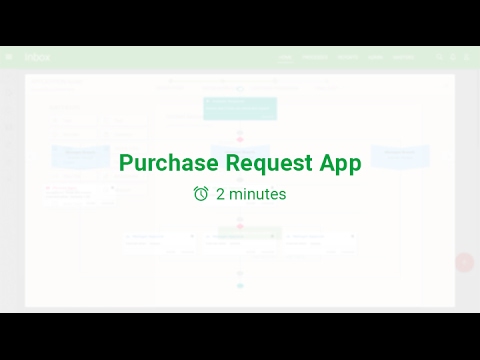 A software like KiSSFLOW, proves to be a much better alternative in such scenarios because it ensures strong and quick collaboration between the teams requesting a purchase and the procurement team.
KiSSFLOW's Purchase Requisition App
KiSSFLOW has more than 50 pre-built workflow apps, including a Purchase Requisition Software. It removes the hassles of backend coding and lets you create powerful workflow within minutes.
Create a Purchase Requisition Workflow in 4 Easy Steps with KiSSFLOW
Create a Form
Forms are usually the first step of a workflow process, and it is very easy to design a form in KiSSFLOW. You can apply formulas in the form fields, such as entering CreatedBy. FullName to prompt the name of the admin of a particular workflow. Or you can create a dropdown menu to pre-populate data in the form fields. If the purchase orderhas line items that need multiple entries, you can create a table and give your form a grid look. All these functions make it easier for participants to fill the form and move it over to the next person.
You can also print off the purchase requisition form from within the KiSSFLOW dashboard, if needed.
Define the Process
When you initiate a purchase requisition workflow in KiSSFLOW, you can request the participants either of the two responses, Approve Request or Provide Input.
But every purchase order workflow has a set rules to follow, but it can also have exceptions to the rules. You can define such procedures by applying formulas like "If" and "Then." For e.g., if a purchase order is worth $1000 or more, the workflow can be made to check with the Department Head instead of getting stuck at the Manager, who is the actual participant in the workflow. In that case, the formula would like like this:
Set Permissions
Unlike standalone Google Apps that allow you to either share the entire data with all stakeholders or hide it completely from them, KiSSFLOW allows you the flexibility to set permissions on who can view what part of the data. It allows the admin of the workflow to control user visibility to the data and ensure data safety. However, this is an optional process and by default, the data is visible to all stakeholders assigned in the form, unless changed.
Change The Way You Manage Your Purchase Requisition

7 Days Free Trial. No Credit Card Required.
Go Live
It takes a single click to publish your Purchase Requisition App after you're done completing the steps mentioned above. It makes the workflow ready to use and available to all stakeholders open for participation.
KiSSFLOW is a Keep it Simple & Smart Workflow for Google Apps that simplifies the entire process of Purchase Requisition creation possible for business users. You can sign up with KiSSFLOW's purchase requisition software to get a free 14-day trial.