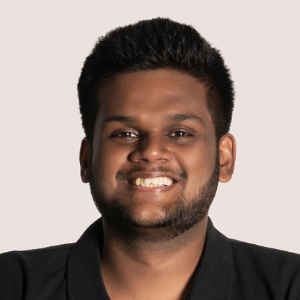 Speaker
Ajay Gopalan
Account Executive

About the host
Ajay Gopalan aids mid-level and enterprise organizations in realizing the full potential of their digital transformation journeys using Kissflow.
Date and time:
30 March 2023
Slot 1: 11:00 am IST | 4:30 pm ACT
Slot 2: 10:00 am GMT | 2:00 pm GST
Slot 3: 9:30 am PST | 12:30 pm EST
Build an Employee Management System without coding
In this demo, you will learn about:
Managing your employee database using an employee management application.

Updating employee information using simple process flows.

Creating reports and a dashboard for active employee management.

Employee onboarding and off-boarding processes that involve multiple steps of approval.

Kissflow app development and how an employee management application is built from scratch.
Ajay will walk you through the process of building this application live in less than 30 minutes.
The demo will conclude with a live Q&A with a Kissflow Product Manager. See you there!