In today's competitive and ever-changing business environment, it is simply not enough to have a great quality product or service at the best price and in an optimum market. Effectively managing your most important asset, your people, is critical to achieving organizational success and staying ahead of the game in your industry. This article will explore the concept of workforce management as a business strategy and will show how workforce software can help your business improve its productivity, efficiency, and performance.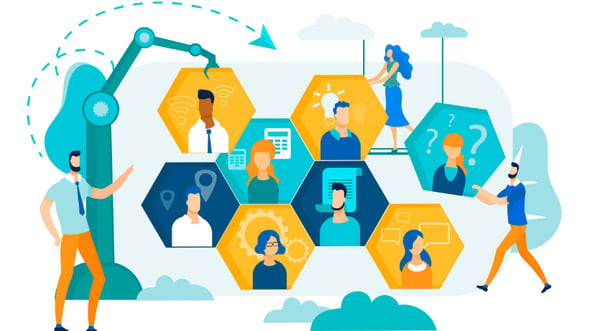 What is workforce management?
Workforce management (WFM) refers to a specific organizational strategy and associated set of processes to maximize employee productivity and performance within a company. At its heart is the notion that all required resources, be they human capital (employees), systems, processes, etc., are in the right place at the right time to achieve the highest possible levels of efficiency.
Five key elements of automated workforce management
There are so many activities and processes involved under the umbrella of WFM. Trying to coordinate them manually can not only be a headache but can also be ineffective, time-consuming, and poor use of resources.
Automating some of these processes is a great way to achieve efficiency gains. Here are some of the key areas in which you could see great improvements by implementing automated solutions in the form of workforce management software.
1. Recruitment
Automation allows recruiters to quickly and easily compile job specifications and adverts from pre-defined templates. It also uses clever analytics to gauge the best advertising methods based on previous performance. In terms of candidate applications, CVs can be automatically screened against set keywords and skills matrices, saving overworked HR teams countless hours manually assessing applications. Following this, shortlisted candidates can be automatically assigned to vacant interview slots.
This is one of the most valued aspects of a workforce management solution for many organizations. Employees' timesheets can be completed and stored online, with automatic approvals within predetermined parameters. This also allows line managers to easily establish the effectiveness of the scheduling and need for overtime and supports them in measuring whether or not productivity could be improved if resources were moved to different times or departments.
Many workforce management solutions also offer employee self-service features, allowing staff to request holidays and time off at the touch of a button.
Removing manual interventions from the performance management process and replacing them with automated ones has the potential to save line managers significant time arranging meetings and completing lengthy review forms. Workforce software can arrange review meetings automatically through diary coordination, as well as undertaking automatic scoring against set criteria.
Line managers can also use the software to compare employee performance across their team and the organization as a whole. The software supports them to make well-informed judgments about which employees have future potential and which may benefit from further training or development.
4. Talent management and labor projections
Linked to performance management, workforce management software can help to underpin the leadership team's decisions about the future of the business. This software can predict future staffing requirements (in terms of volume and skill) to meet the forecasted demands of the business. Further, it can help strategize to fill future skills gaps, from internal development and promotion to external recruitment.
Workforce management software is able to automate many of the laborious, manual tasks associated with an employee's departure from the organization. Using this software ensures that everything is completed on time and accurately with minimal human intervention. Such tasks could include arranging exit interviews, generating final salary payments, and prompting the return of company property.

Top 5 benefits of managing your workforce with workforce software
There are many great advantages of using WFM software. Here are just a few of them:
1. Improvements in data accuracy
When data is handled by the system, rather than relying on manual data input, there is a much-reduced risk of inconsistencies occurring through natural human error.
2. Reduction in costs
By automating many processes that were previously done manually, or even just by reducing human input into repetitive tasks, the company can save money on employee wages to carry out mundane, administrative activities. Companies often also see reductions in costs due to improvements in data accuracy, as above.
3. HR team time savings
A workforce management system takes care of many of the administrative tasks traditionally performed by the HR team. This creates time and space for these individuals to focus on more value-adding activities that contribute positively toward business success, from staff training and coaching to planning HR strategy.
4. Reporting capabilities
The new wave of workforce management software has sophisticated reporting features, enabling organizations to utilize the wealth of data that is held within the system. Evaluating information such as absence levels, performance ratings by line managers, and recruitment method effectiveness can help the business make well-informed decisions and changes based on facts.
5. Smoother and more streamlined processes
Automating HR processes eliminates much of the unnecessary work (such as cross-referencing information and duplicating data across various platforms). This leaves only the most relevant and value-adding parts of the process. The result is smarter and more streamlined HR workflows that are easier to navigate for everyone.
Best in the industry workforce management software solutions
There are plenty of workforce management software solutions out there in the market and choosing the right one for your business can sometimes feel overwhelming. Here are five of the best:
1. UltiPro
This workforce management software has a comprehensive list of features and functionalities to help businesses organize and plan their human capital requirements. UltiPro has won awards for the great balance that it strikes between off-the-shelf readiness and also a high level of customization options, should the client need it.
2. BambooHR
BambooHR is perfect for small- or medium-sized businesses looking for an easily accessible and straightforward system with an impressive range of features, from time and attendance tracking and benefits administration to recruitment automation.
3. Kissflow HR Cloud
Kissflow HR Cloud is a cloud-based HR system that supports multi-channel access allowing HR teams and employees to use its self-service options on the go. The system also makes it easy for users to add additional features to the core system, such as vendor, procurement, and finance management suites.
It has a range of features from recruitment to performance management and sophisticated reporting functionalities, in addition to advanced automation options for the more basic HR functions.
4. Workday HCM
Workday HCM offers its clients a comprehensive, web-based workforce management system with automation across the whole range of HR processes, from compensation and benefits to recruitment, compliance, and performance management.
5. SAP Fieldglass
SAP Fieldglass is a cloud-based workforce management software and is a leader in its field, with clients in over 165 countries worldwide. Part of its popularity lies in the volume and quality of the features it offers, such as advanced employee scheduling and forecasting capabilities.
Embrace workforce management to stay ahead of the game
There are so many benefits to be gained from using a workforce management system that is in tune with your organizational needs. Thus, it is certainly worth reviewing the options available on the market to evaluate how such software can benefit your business.
If you're looking for a workforce management tool that can grow with your organization, take Kissflow HR Cloud for a spin. Sign up for a free demo and see the difference an effective workforce management tool can make.

---
Related Articles: