Components and Features of an Human Resource Information System – HRIS
Shivasankari Bhuvaneswaran
January 7th, 2019 • HR Process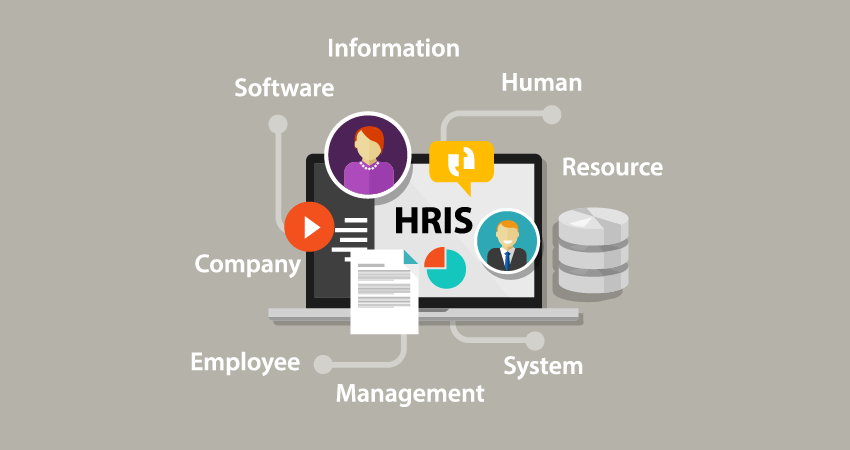 Choosing the right Human Resource Information System (HRIS) is not a spur-of-the-moment decision. At first look, all HRIS look the same. They all leverage cloud computing, mobility, and other elements to create an umbrella-like solution that meets the ever-evolving HR management needs.
People who have kept track of the evolution of HR solutions might have noticed that these all-in-one Human Resource Information System, HCM, and HRMS Softwares are just a cluster of elements that were once distributed as standalone products. Human Resource Information System, being the 'entry-level' HR product, has become a go-to solution of SMBs. HRIS systems are also called as Human Resource Management System.
What is Human Resource Information System / HRIS?
Ideally, an Human Resource Information System or HRIS manages the policies, processes, and people in an organization. Its powerful set of features work together to tackle the multi-faceted complexities of HR processes. Every HRIS comes with an array of so-called 'indispensable features' that are said to cover other vital processes and services.
However, only a few of these features are even marginally useful for SMBs. Most of them are mere marketing tactics. So, it is essential to tread carefully while choosing an HRIS.
9 Must Have Core Functionalities in a Human Resource Information System
To find a pocket-friendly HRIS Software that meets the needs of your organization, look for a product with these five must-have core functionalities:
1. Centralized Database:
With an automated database that collects, stores, and displays up-to-date, consistent information about the personnel, policies, and procedures in an organization, HR leaders can finally break up with spreadsheets and paper files.
Storing all confidential information in a centralized cloud-based HRIS Software will:
Promote data integrity
Reduce process and data redundancy
Improve productivity
Enhance efficiency of HR staff and
Reduce cost
A centralized database that is seamlessly integrated with other HR modules will not just facilitate virtualization but also offer great accessibility to all end-users. Any updates or changes made to the master database will reflect immediately across all modules, saving a considerable amount of time and effort HR staff put into matching and duplicating all records manually.
2. Payroll:
Several SMBs already use a stand-alone system to manage their payroll process. And, no one is eager to switch it to an HRIS. Also, there may be concerns as to whether the payroll module in an HRIS is efficient enough to handle all the full spectrum of services like a dedicated payroll system.
However, an Human Resource Information System or HRIS software can manage the payroll process end-to-end with its broad range of features that:
Automate payout process
Auto-compute taxes
Ensure statutory compliance
Deliver automated reminders
Extend Employee Self-Service options
In addition, an HRIS integrates seamlessly with the accounting module and attendance system. So, the need for manual reconciliation is eliminated, reducing the room for manual errors and legal/financial compliance issues caused by them.
3. Employee Self-Service
SMBs often find it hard to keep their employee-related data updated. Employee Self-Service (ESS) is an effective way to manage this problem. Giving employees access to view and manage their personal information (profile, time off, benefits, or payroll) can reduce the time HR staff spend on mundane clerical tasks.
By extending a self-service option to their employees' organizations can:
Empower employees
Decrease clerical tasks
Cut down admin time
Improve employee engagement
Reduce HR paperwork
Employees don't have to engage in a mail chase to retrieve their leave balance or payslips. With a self-service portal, every HR process from employee onboarding to reporting will become more efficient. If the HRIS has multi-channel accessibility, employees can view, edit, and retrieve all work-related information right from their mobile phones.
4. Time and Absence Management
Managing employee timesheets, schedules, and tracking attendance manually involves an immense amount of HR labor. Keeping up with leave request emails and tracking employee absence while sketching out a schedule to manage the changing workload is a huge ordeal. On top of that, exporting all attendance data to the payroll system is time-consuming and tedious.
An HRIS will solve the problems associated with leave and time management with a comprehensive set of features such as:
Auto-capture and submit timesheet entries
Workforce scheduling
Drill-down and drill-through analytics
Integrations with payroll, accounting, etc.
If not handled properly, timesheets and vacation requests have the potential to stir up a lot of trouble. Mishandled time-off requests can leave a bad impression on the quality of life in the organization, and reduce employee satisfaction. So, streamlining the timesheet and time-off process with an HRIS can control the manual errors and prevent possible disasters.
5. Talent Management
Employees are the most valuable resources in any organization. However, the process of talent management, i.e, attracting, recruiting, engaging, developing, and retaining employees is a complicated process. Also, employee turnover cost is expensive. An HRIS with an exclusive talent management system will help the organization take better care of their employees.
6. Recruitment:
This feature offers a complete applicant tracking system with a reporting engine to analyze trends and patterns in recruitment. It also seamlessly integrates with job-portals, internal website, and employment-service providers to reduce the chaos in hiring.
With an employee self-service portal that is connected to a cloud-based database removes the necessary evil paperwork out of the onboarding equation. Employees can complete the onboarding process using scanned documents, automated workflow, predefined checklist, and easy-to-use digital forms in 15 minutes.
8. Training:
A training module can enable organizations to offer blended training experience to their staff to improve engagement, job satisfaction, and retention. They can also plan, track, and measure the impact of their training program to ensure its effectiveness.
9. Succession Planning:
This particular module enables organizations to map talent pipeline and rankings. Once key positions are identified, it would be easy to create employee-specific development plans.
Create Your Own Human Resource Information System Using
Try it for free for 14-day
Benefits of Human Resource Management System
There's a lot of benefits that come with adapting to a Human Resource Information System. Here are some of the major benefits that your HR department can enjoy when switching to a HRIS.
Tracking and Reports
One of the major benefits of Human Resource Information System is that you can track any employee thats in the system or ex-employees or even the applicants. You can make use of the report module of HRIS to create some insightful reports.
Access anywhere
A cloud-based HRMS can be accessed from anywhere. You can make use of the mobile friendly features of most of the HRIS softwares to get your work done on the go. All the information you will ever need as an HR is all located in one place.
Reduce human error
HRIS system helps to ensure the accuracy of employee data. Since all processes are automated, the amount of human effort required will be significantly reduced along with the errors that come with human intervention.
Reduce paperworks
HR's spend most of their time filing paper-works because of sheer volume of papers that come across their desks. HR processes like recruitment, leave management, performance management, payroll, Onboarding, training all use a lot of paper templates which keeps pilling up. Human Resource Information Systems helps to automate these processes and make everything digital thus reducing a significant amount of paperwork required.
Collaboration
HRIS software usually have a collaboration module which helps HRs and Employees to talk with each other and collaborate successfully to get work done faster.
Popular HRIS Softwares
If you're in the marketing for a Human Resource Information System, here are some of the popular HRIS softwares available that you can evaluate today.
1. BambooHR
BambooHRis a core-HR software designed for Small and Medium Business. It has all the features you would expect in a HRIS software including ESS, Recruitment, Performance Management, Talent Management, Training etc. They also have a trial which you can try out.
2. KiSSFLOW
KiSSFLOW is a cloud-based hr management software which has a lot of pre-built HRIS modules including Recruitment, Onboarding, Centralized database, ESS, timesheet management, training planning etc. It's powerful workflow tool lets you to build your own apps and automate your hr processes in minutes. The collaborative module of KiSSFLOW lets you connect with people effortlessly and complete your tasks faster.
3. Namely
Namely is an all-in-one HRIS software which lets your manage all your day to day HR tasks in a single platform. Some of the popular benefits of Namely include Payroll, Benefits management, Talent management, Time management and ESS.
4. SuccessFactors
SuccessFactors puts people at the heart of your HR transformation – and improve the employee experience. Some of the popular modules of SuccessFactors include Core HR and Payroll, Time and Attendance Management, Learning and Development, Performance and Compensation, Recruiting and Onboarding, Workforce Planning and HR Analytics etc.
5. JustWorks
JustWorks is a HR software aimed at small businesses. Their HR tools simplifies all the complexities associated with HR hr processes and let's you work fearlessly.
Choosing the Right Human Resource Information System / HRIS
People who have kept track of the evolution of HR Management Software might have noticed that these all-in-one HRIS, HCM, and HR Management tools of this age, are just a cluster of elements that were once distributed as standalone products.
While it might seem like a stellar deal to invest in an Human Resource Information System Software rather than purchasing individual modules, it is counterproductive if you aren't ready to restructure your HR processes around the product. In such cases, it would be wise to use process specific HR apps to meet the business needs.
KiSSFLOW eliminates the cumbersome product implementation and maintenance aspect that comes along with Human Resource Information Systems with its cloud nature. Its multi-channel capability couple with seamless integration with other applications ensures complete transparency, rapid data sharing, and easy collaboration. Also, the pay-as-you-use pricing model keeps it pocket-friendly.
Stop hesitating and start automating with KiSSFLOW's 14-day risk-free trial. Sign up now!
Create Your Own HRIS Solution Using KiSSFLOW
KiSSFLOW frees up your time by automating your mundane HR tasks and approvals in less than 15 minutes. Try for free!