5 Best Practices for Smooth Employee Offboarding Process
When it comes to welcoming new hires, organizations are ready to pull out all stops. They come up with all sorts of novelties like extravagant buffets, balloons, and guided tours to celebrate the moment. Why? Because first impressions matter and all these efforts have a direct impact on employee retention.
However, organizations don't put in the same effort when it comes to employee offboarding. Be it a voluntary resignation or an involuntary departure like a layoff, offboarding is often overlooked. Research suggests that only 29% of organizations have a formal employee exit management process in place.
If employee offboarding process is a part of an employee's lifecycle, why do organizations ignore it? Many don't see a point in wasting their time and resources on employees who are leaving. But neglecting offboarding best practices can result in ugly backlashes like regulatory violations, data breaches, gaps in knowledge transfers, and so on.
Offboarding comes with its fair share of complications. You can't use the same process to offboard every departing employee. The policies and procedures involved in offboarding differ with its types (resignation, layoff, retirement, contractual). But, setting up a dynamic employee exit management process with limited resources is hard.
5 best practices for employee offboarding process
Here are some employee offboarding best practices that can be incorporated into your employee exit management process to offer all employees a consistent experience.
1. Make employee offboarding memorable
The most crucial aspect of a good employee offboarding process is to treat employees warmly, regardless of the reason behind their departure. Celebrate their achievements and make them feel appreciated for their efforts. Who knows? All this love can make your employees return to the organization like a boomerang.
Additionally, a memorable farewell will make employees speak positively about their experience and this will, in turn, increase your brand value as an employer. Keeping in touch with departing employees and forming an alumni network will help during talent acquisition and brand reputation management.
The Alumni Effect
Deloitte saved $3.8 million by using their alumni network Alumnet for their talent hunt
Shell Oil Company has an online networking platform for their former employees to tap into their recruitment potential
2. Retrieve insights
Departing employees can often offer honest feedback about the organization since they are no longer dependent on it for their livelihood. A simple employee exit management program conducted as a part of offboarding documentation process can unveil the reasons behind employee attrition.
Once the turnover issues are uncovered, organizations can figure out a way to solve these problems and retain existing workers better. Having a handy exit interview checklist and guide will remove some stress from the offboarding process.
A survey on termination and exit interviews highlight the benefits of retrieving employee insights in the offboarding phase.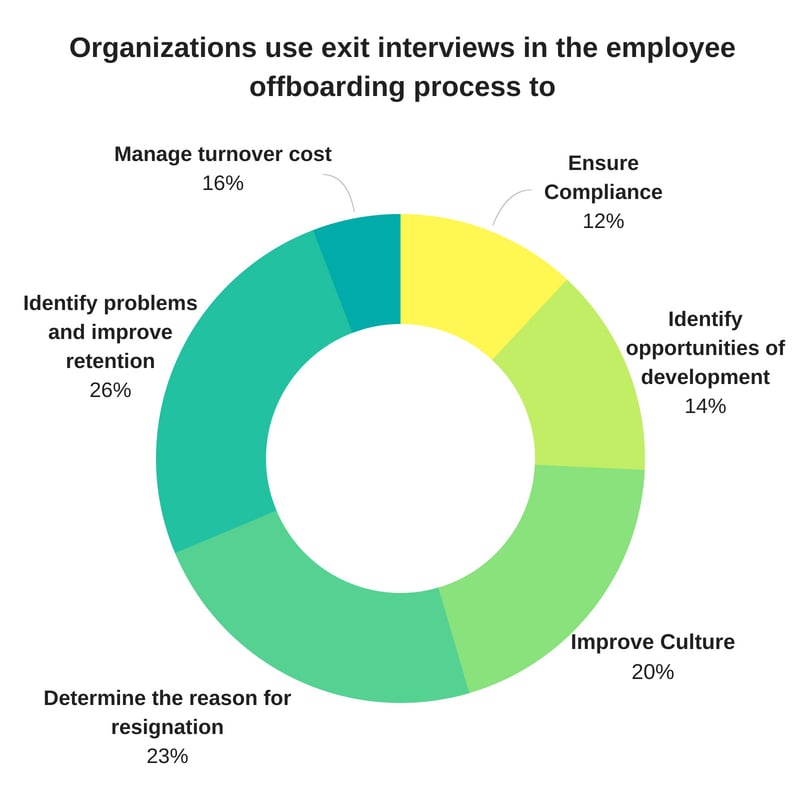 3. Ensure compliance
An improper employee offboarding process can pose a huge security risk to the organization. Imagine that a departed employee retained access to their account even after leaving the company. Can you trust them to do the right thing even after leaving the organization?
One look at the sensitive information (about the organization, employees, and customer) involved, will show that the risk of data theft can never be taken lightly. This is why it is important to abide by legal compliance standards. However, this problem can be tackled easily with an exit template or termination template that lists out all the legal and industry compliance requirements.
4. Protect your assets
Standing on the receiving end of vengeance is not sweet. How far will a vengeful employee go? Let's assume that an employee was fired in a massive layoff or he/she quit your organization due to a workplace conflict. How far will employees go to extract their revenge?
It can end on a simple note with a nasty Glassdoor review. But what happens when an employee has a far more involved plan? During their tenure employees have access to a lot of confidential data. What if an employee decides to wreck havoc with it? It could be a corporate catastrophe.
Rather than opting to clean the mess of a reputation damage, organizations need to take measures to reduce the risk of compliance breaches by:
Retrieving all physical assets (keys, access cards, desktops, mobile phones)
Wiping sensitive organization related data from their personal devices
Revoking the digital access rights (employee portal, corporate email)
5. Prevent productivity drops
When an employee leaves, day-to-day activities handled by him/her will be interrupted. As a result, there will be a considerable drop in productivity. But, once an employee leaves, you cannot expect them to be available for any support in the future.
It is vital to prevent potential productivity stalls by requesting departing employees to properly document project responsibilities, transfer process knowledge, and various ownerships of resources.
Make employee offboarding a priority, not an afterthought
The complexities involved in offboarding make bidding goodbye to employees a taxing affair. One wrong move can ruin your organization's reputation and take years to repair the backlashes. Consistency is the key to success. However, manual employee offboarding process don't offer a consistent experience.
With the right technology tools, organizations can standardize the complexities involved in employee offboarding and help you part ways, the right way. Automating the offboarding workflow, exit checklists, and employee exit surveys will not only take some stress out of the process but also make it more efficient and reliable.
Employees no longer need to suffer the bleak reality of manual onboarding process and the complexities it involves. Kissflow's HR Cloud was designed with simplicity and intuitiveness in mind. Kissflow's dynamic user interface allows business to fulfill the demands of modern workforce without compromising on policies and compliance.
Get started with Kissflow HR Cloud today to see how you can streamline all your HR processes including offboarding, employee exits, and more.