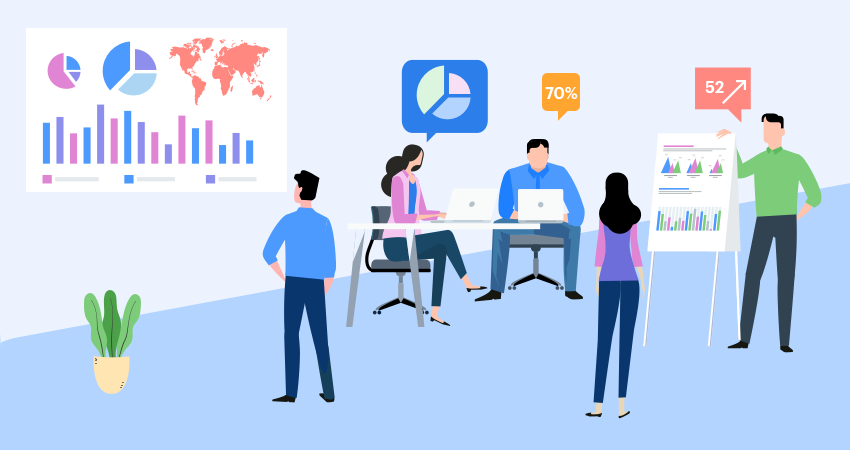 Many organizations have already started their digital transformation journey or planning to do so by adopting a digital-first business strategy. Businesses are now forced to increase operational efficiency while managing their remote teams and automating work to keep products and services available.
According to a recent report[1], global spending on digital transformation reached 1.3 trillion dollars in 2020—a 10.4% growth compared to the previous year. This may not sound much, but any type of growth in the midst of an economic recession highlights how the industry is growing.
But even without the pandemic, digital transformation is the present and future of commerce. With over half of customer interactions and services becoming digitalized, it is now important that all products and services offered fit within the scope of their customer's transformed architecture.
What is Digital Transformation and Why it is Important?
At its most basic, digital transformation is the adaptation of a company's work philosophy to meet the cultural, logical, personnel, and technological needs of an evolving landscape.
While technology plays a huge role in digital transformation efforts, it is a misconception that DT is purely the adoption of technology into a company's infrastructure. It also involves driving lateral thinking, letting technology aid in highlighting expertise, hiring the right experts, identifying bottlenecks in processes, and enabling constant innovation. DT not only affects the larger objectives but has an impact on day-to-day operations.
One thing to remember is that digital transformation is not something that organizations can implement as projects. Instead, digital transformation requires cross-cutting organizational change which focuses on employees, customers, and internal business processes.
However, digital transformation is a multi-step journey that can take anything from weeks to months, and it is easy to feel overwhelmed with all the changes. It's important to understand what digital transformation really is and how it can help your organization before making any big changes.
Why is Digital Transformation Important for Business?
Digital transformation is now the biggest concern for directors, CEOs, and other C-level executives. It is estimated that digital transformation spending will reach over $2 trillion [2] by the end of 2022.
Digitally transformed organizations are expected to contribute to more than half of the GDP by 2023, accounting for $53.3 trillion
Based on a recent survey by Gartner, 56% of CEO said that their digital improvements have already improved profits.
The main driver of digital transformation is multifold—operational efficiency, technological improvements, and adaption. Companies have recognized the importance of digital transformation and the impacts it has on business.
Benefits of digital transformation
For a successful Journey, it is important to know how digital transformation benefits your business. Here are some common advantages irrespective of any industry.
Enhances Data Collection and Analysis
It's one thing to gather data, but it's another to use it across your process flow. Digital transformation applies to both data collection and analysis. Turning digital lets a company establish a system that can incorporate business intelligence at various touchpoints.
Digital transformation also ensures that everything is secure. Customer data is collected, stored, shared, and analyzed, all while being protected with data encryption, blockchain tech, and other systems.
Improved Customer Experience
One of the most observable results of digital transformation is its ability to unlock customer insights and help companies provide an enhanced customer experience (CX).
Surveys suggest that over two-thirds of companies report that they are competing mostly on customer experience. With so many options out there, digital transformation can firm up your marketing strategy. Boosting convenience, product or service quality, and customer service keep customers satisfied and loyal.
AI-driven analytics can unlock customer insights. From personal info to unstructured data like social media metrics, purchasing behavior, and more: these insights can be powerful enough to set your brand apart from the competition.
Better Resource Management
Digital transformation helps consolidate company resources into one neat bundle or a suite of tools. With integration options, automatized processes, and process innovations, digital transformation can create a central repository of data for any business.
Nowadays, data is considered an asset. Optimizing and securing data in an integrated application can make your sales, finance, and C-suite more effective.
Raises Profitability
Companies that embrace digital transformation gain 25% higher revenue growth on average than those that do not. According to SAP Center for Business Insights and Oxford Economics, 80% of firms that are able to complete their digital transformation have increased company profits, and 85% reported an increase in their market share.
Learn more: Why digital transformation fails? How to Avoid it: Expert's Advice
Digital Transformation Stages
3 Stages of Digital Transformation:
First stage - Digitization
Second stage - Digitalization
Third stage - Transformation
One thing to remember is that digital transformation is not to be confused with digitization (although digitization is part of the change). While digitization and digitalization are focused on technology, digital transformation is about the end users using the technology. Organizations can implement numerous digitization projects right from automating processes to incorporating new tools.
Let's discuss the three phases of digital transformation an organization should traverse:
Stage 1- Digitization
As mentioned, digitization is different, albeit a part of digital transformation. It's the first stage of the process, where companies adopt digital representations of physical objects. Some examples include creating digital documents in place of paper files; electronic measurement for manufacturing, to name a few.
Digitization is the foundation of being able to move towards digital transformation. Without the first step of computerizing physical attributes into digital artifacts, the next phases of the transformation would not be possible.
Stage 2- Digitalization
The second phase of the transformation, digitalization involves taking digitized work and leveraging it to improve the organization's processes.
Digitalization, simply put, is how companies use the abstracted data gathered. Examples in manufacturing would be something as simple as a sequenced logic for a batch process, automation of shutdown, and PID control in a microprocessor system. A marketing application could be using software to automate email campaigns designed based on social media feedback.
Digitalization increases productivity and usually reduces operational costs. Take note though, that while it improves processes, digitalization does not transform them. It's more about using technology to drive efficiency. Perhaps most importantly, digitalization can help businesses connect with customers and partners more effectively, creating new growth opportunities.
Stage 3- Transformation
The final phase, digital transformation describes a shift in business processes enabled by digitalization tools and tech. The digital moniker is actually a misnomer because this step is more about the end-user and no longer about the technology per se—which the first two phases highlight.
An example would be the shift from local control to remote monitoring, storage, and SaaS security service that takes care of data flow requirements, cybersecurity, marketing, and skills. In a manufacturing setup, digital transformation could look like transferring the data on sales to optimize the volume of raw materials, personalize manufacturing, and optimize production.
Learn More: 4 Stages of Digital Transformation
Examples of Digital Transformation
Digital transformation can apply across sectors and segments. Here are a few examples of digital transformation in practice across industries:
Digital Transformation in Manufacturing
Manufacturing companies benefit from predictive analytics that determines which process will produce the best results. The manufacturing industry also relies on assembly line metrics, energy consumption, and resource utilization data that can help them drive efficiency and profit.
Digital Transformation in Finance
The revolution in banking has spread far more than shifting to mobile banking. With decentralized finance and metaverse paving the way for permission-less but secure blockchain banking, firms are taking the leap.
Digital Transformation in Health Care
Aside from the convenience of telehealth and digital communication modes between patients and practitioners, there is the Internet of Things (IoT) that supports research. Collecting data has become possible remotely thanks to IoT. Hence, medical professionals can now gather accurate patient info through a digital medium. These systems are also changing how medical care and how clinical trials are being completed.
Learn more: 9+ Digital Transformation Examples for Every Business case
What Are the 4 Types of Digital Transformation?
Digital transformation cannot happen with just a single adjustment. It must be a change that tackles these four types, which include:
Type 1: Process Transformation
Here we see the focus on integrating technologies to reinvent a company's processes. The goal is to increase productivity, improve the customer experience for both existing and new clients, and generally lower costs.
Process transformation is significant as it can bring positive changes to the organization. A recent survey suggests that about 58% of respondents cite higher efficiency rates, while about 43% experienced cost reduction by eliminating repetitive manual procedures.
Because these transformations focus on specific areas of business, it is usually the CIO or CDO who is in charge of leading the innovations.
Type 2: Business Model Transformation
A more profound way to disrupt the market is to wholly change traditional business models. Technologies create constant updates on how to reinvent how a product or service is delivered, and it's up to companies to take the step to be first in their industry to do so. Since we have seen how lack of innovation (e.g., Nokia) has led to the downfall of former giant brands, having a keen eye on business model transformation can keep the organization relevant and strong.
Some examples of business model transformation include how Netflix designed video content distribution while providing a seamless customer experience. Another big shift was Uber's impact on the taxi industry. Their business model eliminated the need for a single business owner to own a fleet of taxis and provided a more secure and trackable way to offer the service to customers.
Apple's success can also be attributed to a business model transformation, where instead of focusing on utility, like most electronics, Steve Jobs' direction of creating premium and aesthetically beautiful consumer electronics has changed the game.
Shifting the fundamentals of an industry requires calculated risk and complex strategy. Hence, the top management will require Strategy and Business Units collaboration in this type of endeavor. When done the right way, it opens considerable opportunities for growth.
Type 3: Domain Transformation
When firms incorporate technologies, these can transform products and services, and even create non-traditional competitors. In short, new tech can unlock new pathways for your organization beyond what is currently offered.
One major example is Amazon. The company expanded into a new market domain with the launch of the cloud computing service, Amazon Web Services (AWS). While it may seem like an offshoot project, AWS is an entirely separate business. The company's entry into the cloud service would not have been possible without its solid digital capabilities as an online retailer. What's more, Amazon has the right connections with small businesses that need computing services to grow. Because they maximized domain transformation, AWS now generates about 60% of Amazon's profit.
Domain transformation highlights growth – unforeseen usually, but always on the horizon when an organization completes its digital transformation.
Type 4: Cultural Transformation
Digital transformation requires long-term and step-by-step redefining of organizational mindsets, skills, and processes that allow staff from the leadership to the ground-level individuals to gain traction in a highly agile workflow.
Cultural transformation can be best seen in businesses that shift employee focus from equipment to data analytics. An example is the success of Experian, a consumer credit agency. The company was able to embed collaboration and agile development within the organization. This company-wide shift from equipment to a stronger reliance on data testing led to growth.
Digital Transformation Strategy
Digital transformation is a deep, all-encompassing type of change. Firms that are successful in digital transformation can lead towards greater success and profitability. Building the right Digital Transformation strategy requires the understanding of major areas that impacts the organization's growth. Here are five major areas involved in digital transformation strategy:
Leadership
In any organization, it is the top management who will first need to decide where digital transformation can take place in their respective firm. Leaders that nurture a culture of innovation and willingness to digitize can move the business to change. The key here is not to add technology just for its sake. Rather, to utilize specific tech and applications to be more competitive and to cater to customers better.
Culture Shift
Digital transformation, from the term itself, entails transformation. Expect a culture shift within the organization, even though it will be difficult at first but with every large-scale change, things even out. It's important to prepare employees and clients for the shift. Open dialogues, clear training, and consistent updates as to how digital transformation provides results for the company—all of these mechanisms can prepare everyone involved.
Digitally Adept Members
From the top management to the core digital transformation team, all the way to extended team members, a comprehensive digital transformation comprises staff that thoroughly practice and make use of ideal technologies.
Companies seeking to complete the shift must ensure their employees are on the same page. There's a hands-on and long-term approach to legacy modernization, enterprise mobility, automation, and data science at every point of application. Leaders, managers, architects, developers, product managers, and business users—everyone should possess the ability to ask the right questions and solve problems.
Optimizing Processes
Optimization is at the heart of digital transformation. It should make the work simpler.
An effective business strategy not only uses digital tools just because, but uses them so that maximum results can be achieved. For example, instead of doing the task the usual way, adding automated software shortens the time to do it. Or a particular tool eliminates the errors usually occurring in a procedure.
Keeping business process optimization in check while formulating the transformation ensures that all processes improve in terms of speed and quality.
Technology Adaptation
Cloud, AI, advanced analytics, and IoT are some of the most relevant and adopted technologies right now. Statista reports that IT spending is projected to grow by up to 4.4 trillion by 2023, as digital transformation has become a powerful innovating move for companies.
Aside from digital storage, financing, and analytics, there's also 3D printing. The technology is also being adopted in manufacturing because it produces complex and custom designs at lower costs.
With so many options for digital capabilities, it can be hard to identify which tool suits your organization. Drafting a strategy comes into play here. Updates on legacy systems and new digitalized systems are major investments. An effective strategy will include only the most helpful software for the firm.
Learn More: 7 Digital Transformation Challenges and How To Overcome in 2022
How to Digitally Transform Your Business
There is no one-size-fits-all approach to a digital transformation journey. But there are actionable steps your organization can take at whatever stage of transformation you are in:
Step #1: Assess the current digital state of your organization
Before you start investing in new tools and technologies, you need to know where your organization stands from a digital point of view. You can achieve this by conducting a company-wide survey to better understand the main challenges and areas of improvement.
What are the main problems faced by employees every day?
Are there any manual processes that can be easily automated?
Is it possible to streamline projects for higher productivity?
What are the biggest customer complaints?
How can digital technologies help the company achieve its long-term goals?
Moreover, if you are using a legacy system in your company, you also need to consider how you can migrate the data to modern applications with minimal downtime.
Step #2: Identify and analyze the main objectives for digital transformation
Executing a successful digital transformation starts by identifying the main objectives and the strategies that can help achieve those objectives. Many organizations often only focus on digital customer experience when strategizing their digital transformation journey. But considering digital employee experience is just as important because your handle all the internal company work and talk to customers directly.
Here are some of the major digital transformation objectives and goals that you can consider:
Transforming complex business processes into streamlined workflows to reduce costs and improve overall productivity
Simplifying service management in the organization
Gaining visibility and transparency across the different verticals
Offering a better digital end-user experience for both customers and employees
Optimizing the organization's infrastructure and operations for better agility
Your exact objectives will depend on the challenges your organization faces and the main end goals.
Step #3: Create your digital transformation roadmap
Now that you know your current position and where you want to be, it's time to create a roadmap that can help you achieve your digital transformation goals. You should take an incremental approach to digital transformation instead of trying to achieve everything at once. After all, digital transformation cannot happen in a day or even a week. It can take anywhere between a few months to several years.
Prioritize your objectives and then move forward one step at a time. Not only will this make it easier for you to track the progress, but it will also minimize problems and bottlenecks. Moreover, moving steadily towards a digitally transformed organization will allow your employees to slowly get used to the new changes.
Step #4: Establish leadership for achieving digital transformation
Expecting your CTO or CIO to manage the entire digital transformation strategy while also handling their core work responsibilities is unrealistic. They might not have the time or the expertise to lead the company through a digital transformation journey.
Instead, you need a dedicated team led by the Chief Digital Officer (CDO) that is responsible for achieving digital transformation within the organization. If there are qualified employees within the company who have the expertise to handle this, you can create a team internally. But if you don't have the right talent to lead the transformation, it's always best to hire new talent to guide everyone in the company. In enterprises, it is quite challenging to accelerate growth. Find out how digital transformation leaders can make positive initiatives for a successful journey.
Step #5: Review and refine
Constantly monitor and review all the digital transformation initiatives and make modifications to them according to internal feedback.
After all, things don't always work how you want them to. An application that you thought would help in offering better customer service might end up being too complicated for your employees to use
How Kissflow Can accelerate your Digital Transformation Journey?
Digital transformation is a powerful shift necessary for businesses these days. Despite the challenges and birth pains, it is something that cannot be missed in today's highly technological and virtual world. Those who are able to successfully navigate this transformation experience significant growth and are well-positioned to thrive in the years to come.
A comprehensive low-code, no-code work platform like Kissflow not only aids in streamlining digital transformation efforts but improves crucial aspects of work that drive efficiency and productivity.
Kissflow digital transformation bridges the gap between business and IT teams, putting core functions in the driving seat.
Where can you Learn More about Digital Transformation?
1. Leader's Tips on Measuring the ROI of Digital Transformation in 2022
2. Key Drivers of Digital Transformation for any organization
3. Build a digital transformation framework to scale up your journey
4. How does automation support digital transformation initiatives?