Community
CSAT scores ruining your Monday? Here's how a customer community can save the day.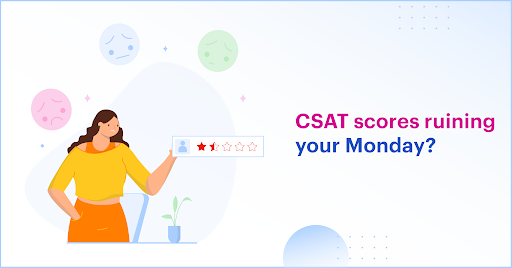 A low CSAT score emphasizes that your customers are not happy with your product. If you don't find a way to make using your product an enjoyable experience, your customers will click on the competition's ads. You've tried upgrading your customer support, introducing more support channels, acting on the feedback, resolving pain points in customer journey maps, upgrading your VoC program. But that CSAT score hasn't budged one inch.
In fact, it's worse than it's ever been.
You may have read that according to The State of Community Management Report, customer communities increase customer retention by 61 percent, and decrease support costs by 52 percent.
But could communities really be enough to improve your CSAT score, even when everything else hasn't worked?
Monetize on customer interactions to improve your CSAT
With the influence of online customer forums on rise, one customer's interactions with the touchpoints of a business is well-documented on the internet, and well-trusted by other customers.
A blog, a review site, or a social media post are all examples of documentation of the kind of customer experience a brand provides. Brands can no longer hide poor customer service and questionable pricing tactics.
Brands used to only see customer interactions from their point of view. Now, online customer communities show what it looks like from the eyes of other customers as well. As more people become digital natives, this trend will continue to grow.
7 sustainable ways to improve your CSAT score
1. Engage throughout the customer journey
The customer journey begins from the first purchase to sustained loyalty. Online communities turn one-time customers into trusting brand ambassadors. Consumers can also stay up to date on your product by reading community discussions, participating in those discussions, becoming loyal customers, and by promoting your business via word-of-mouth.
2. Build a tight-knit network
Your customers join your community to get mutually beneficial networks. These connections are not bound by location but by shared interests. Since the community is tightly knit by the shared interest, contributions from each member remains relevant to your product and amplifies the quality of content in your community. The customer network spreads a positive brand image and goes the extra mile to attract new leads.
3. Create brand advocates
A product reaches more people when promoted by satisfied customers. With the help of feedback and suggestions from genuine customers, the product can realize its true potential. Leveraging word-of-mouth, your brand gains trust and builds reputation. The trust gained is responsible for convincing your prospects that your brand's product is reliable and delivers consistent performance.
4. Encourage self-service
A customer community is a sweet spot for customers and brands. Customers can post questions and expect answers from peers and the brand itself. Brands can include the product, marketing, support, and success teams in community activities to answer customer queries. The teams can also deliver resources to customers using which customers can resolve their issues.
5. Create a dynamic brand resource that educates the audience
You educate your customers about your product to help them get more value out of your product. Using FAQs, you answer common questions your customers may have while using your product. But FAQs don't lift the weight off the support team.
You keep on addressing your customers' knowledge gap by taking support team's help. To ease customers' process of finding answers to questions, you can have a dynamic content resource in your community. The dynamic content resource helps you have both FAQs and user-generated discussion threads on the same platform.
In a discussion thread, your customers can comment, upvote, discuss, and even disagree. But when you are posting an FAQ post on the community, you can enable only the comment access to that post to get their feedback.
6. Innovate by knowing customer needs
When you give your customers a forum to speak their mind out, they will either complain or share their ideas. Either way, you get inputs from them to better your product. It may be bug reports, difficulties in navigation, and new features suggestions. Different inputs from customers belonging to different industries help you cater to customers across verticals.
Now, it becomes easy for you. You don't have to second guess anything. Customers across industries told you what they want and you work towards delivering those. It is an opportunity to better align your product with customer expectations. Co-innovating with customers help you stand out from the competition and express your obsession over customers.
7. Get single source of truth
Your customers visit community discussions that are relevant to them. When you integrate your CRM and ticketing software with your community, you get a single source of truth about customers.
Now you see the discussion threads where your customers spend the most of their community time.
The community platform helps you identify where your customers are struggling to move forward. You can make a note of it and strategise how the support and sales team can better serve the existing and new customers.
Enhance your customer experience using online customer communities
Online customer communities can play a crucial role in boosting your CSAT score. The customer community helps you build a trusted network, engage customers throughout their journey, promote self-service, and create super users.
The finest online customer communities turn users into super users. Your customers advocate your product with their glowing recommendations and prompt renewals. Don't try any new gimmicks to make your customers stay. It rarely works.
Customer insights gleaned from online communities can help businesses better understand their customers, their requirements, and their expectations. After all, managing expectations becomes easy when you invest in community building. Customers will love your firm for mastering the art and science of community building.