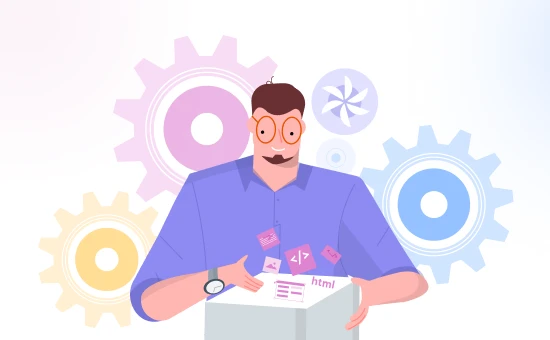 What is Rapid Application Development
What is Rapid Application Development (RAD)? An Ultimate Guide for 2023
What is Rapid Application Development (RAD)?
Rapid Application Development or RAD means an adaptive software development model based on prototyping and quick feedback with less emphasis on specific planning. In general, the RAD approach prioritizes development and building a prototype, rather than planning. With rapid application development, developers can quickly make multiple iterations and updates to the software without starting from scratch. This helps ensure that the final outcome is more quality-focused and aligns with the end users' requirements.
"One of the major advantages of rapid application development is that you can change the design, add functionality, and keep reiterating as frequently as possible without having to start from scratch each time.
A major challenge with the waterfall model is that once the product moves into the testing phase, the tester cannot go back to reiterate and make changes to the core functions and features. This essentially leaves teams with a software that may or may not fit the end-users' evolving requirements.

Rapid Application Development (RAD) was conceived in the 1980s, so it's definitely not something new. But unlike the waterfall model, it's not singular. It's a continuous evolution of development philosophies according to the requirement at that particular time.
Initially, Barry Boehm, James Martin, and a number of others saw that software was not limited to traditional methods of engineering. It wasn't a singular resource that required a fixed structure. It was malleable to suit the needs of the user.
Why do you use Rapid Application Development?
RAD is the best approach to develop prototypes swiftly for testing software functionalities without worrying about any effects on the end product. Businesses opt RAD approach as it requires little focus on the planning phase while enabling the team to design, review, and iterate features and functionalities quickly.
Initially, rapid application development took the shape of the Spiral model [2], where one or more development models were used to work on a particular project.
Over time, RAD phases have changed. It molded itself to fit the requirements of the time while retaining some core development guidelines. The RAD approach is driven by user interface needs and is perfect for application development requiring quick development and deployment. With visual interface tools and pre-built modules, RAD helps create software apps quickly and easily. Businesses adopt different types of rapid app development because of their agility, flexibility, and scalability.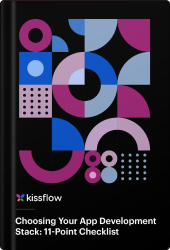 #Free eBook
How to Choose an App Development Platform for Your Enterprise [ Checklist Included ]
Steps in Rapid Application Development
Here are the four basic steps of RAD:
1. Define the requirements
At the very beginning, rapid application development sets itself apart from traditional software development models. It doesn't require you to sit with end users and get a detailed list of specifications; instead, it asks for a broad requirement. The broad nature of the requirements helps you take the time to segment specific requirements at different points of the development cycle.
2. Prototype
This is where the actual development takes place. Instead of following a rigid set of requirements, developers create prototypes with different features and functions as fast as they can. These prototypes are then shown to the clients who decide what they like and what they don't.
More often than not, these prototypes are quickly made to work to showcase just the key features. This is normal, and the final product is only created during the finalization stage where the client and developer are in alignment with the final product.
3. Construction
The construction stage is a crucial stage of development. Engineers and developers work tirelessly to flesh out a working system from a working model. Feedback and reviews are crucial at this stage and most bugs, issues, and alterations are addressed during this stage. This stage can be particularly long, especially in cases where clients change directions or feedback is intensive.
4. Deployment
The final stage of RAD involves deploying the built system into a live production environment. The deployment phase involves intensive scale testing, technical documentation, issue tracking, final customizations, and system simulation. Teams also spend time debugging the app and running final updates and maintenance tasks before going live.
Advantages and disadvantages of the Rapid Application Development (RAD) model
With these steps, it can seem like application development's a great idea for all projects, but that's a stretch. RAD software is great for small teams and quick projects. But it's not a solution to everything. Here are a few advantages and disadvantages of using rapid application development.
| | |
| --- | --- |
| Advantages of RAD model | Disadvantages of RAD model |
| Requirements can be changed at any time | Needs strong team collaboration |
| Encourages and priorities customer feedback | Cannot work with large teams |
| Reviews are quick | Needs highly skilled developers |
| Development time is drastically reduced | Needs user requirements throughout the life cycle of the product |
| More productivity with fewer people | Only suitable for projects which have a small development time |
| The time between prototypes and iterations is short | More complex to manage when compared to other models |
| Integration isn't a problem, since it integrates from project inception | Only systems which can be modularised can be developed using Rapid application development. |
Rapid Application Development vs other software development models
When compared to other software development models, the RAD framework varies by a considerable amount. Obviously, the major difference is how rapid application development focuses on speed when compared to other models which usually focus on bringing a working product to the customer.
| | | |
| --- | --- | --- |
| RAD | Waterfall | Agile |
| Builds a functional, working model of the application in the fastest way possible | Emphasizes intensive planning and follows through on set objectives | Builds the app by breaking down large objectives into smaller 'sprints' |
| Perfect for projects that require the shortest time to complete | Projects are thoroughly planned and execution is typically time-consuming | Helps develop projects in periodical milestones or 'sprints' |
| Can adjust to changing requirements | Does not allow for changes once planning is done | Can quite easily adjust to changes even at later stages |
| Involves clients throughout the development cycle | Only involve clients during the planning stage | Involves clients throughout the development |
| Prioritizes functionality over aspects of UI/UX | Considers all aspects of the app before deployment | UI/UX takes as much priority as functionality |